---
Want to bring this year's Fantastic Arcade home to you? We've got the perfect way! Venus Patrol sister-organization JUEGOS RANCHEROS has just launched a bundle of five amazing and exclusive games making their debut at the seventh-annual indie game festival, Fantastic Arcade.
[ CLICK HERE OR USE THE WIDGET BELOW TO BUY THE 2016 FANTASTIC ARCADE BUNDLE AND SUPPORT JUEGOS RANCHEROS! ]
Thanks to distribution partner itch.io, all proceeds from the sale of this bundle benefit JUEGOS RANCHEROS, our non-profit organization. Help us showcase more amazing games both here in Austin and a city near you, and commission more fantastic developers to create new games like these!
Included in this bundle are all five games you see here, along with extras & bonus materials! Here is what you'll get:
---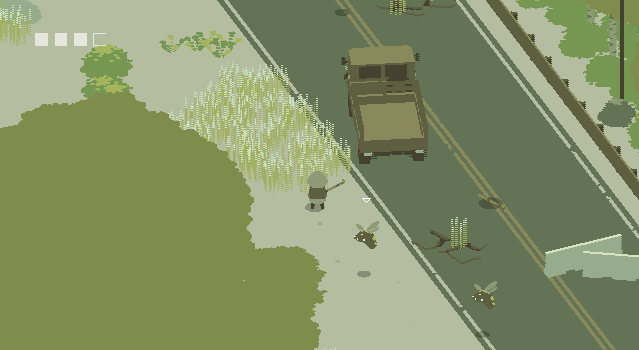 NIUM, by Moppin & Nemk
DOWNWELL creator Moppin has partnered with Nemk (one of our favorite artists working in games) to present NIUM: a post-apocalyptic action game where players will crawl through a ruined, abandoned, STALKER-esque exclusion zone inhabited only by a variety of mutated wildlife. (Windows, Mac)
---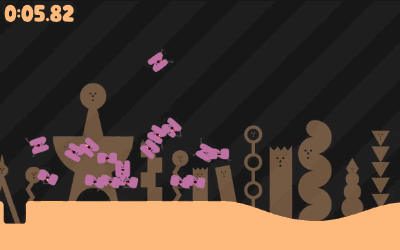 ALPHABET, by Keita Takahashi & Adam Saltsman
Originally available only to select Kickstarter backers, ALPHABET is a slapstick marathon footrace for 1- to 26-players from Keita Takahashi (renowned creator of KATAMARI DAMACY & NOBY NOBY BOY) and Adam Saltsman (designer behind CANABALT & OVERLAND). Run, jump, eat, sing, poop, and sleep through silly obstacle courses!
(Windows, Mac, Linux)
---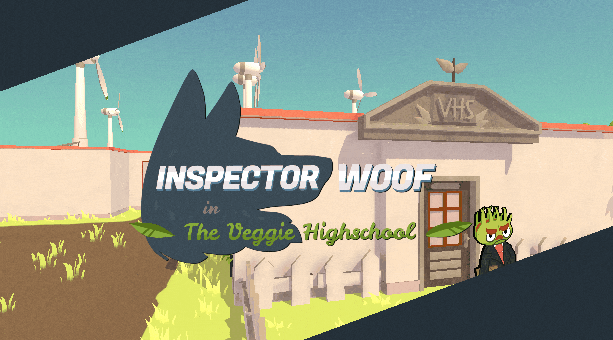 INSPECTOR WOOF, by Klondike
From Klondike — France's upstart super-collective of indie game stars — INSPECTOR WOOF & THE VEGETABLE HIGH SCHOOL is a procedurally generated mystery adventure game where every student is hiding terrible secrets. Armed only with your freshly-printed hints sheet, dig deep into their guilty consciences and expose the truth! (Windows, Mac, Linux)
---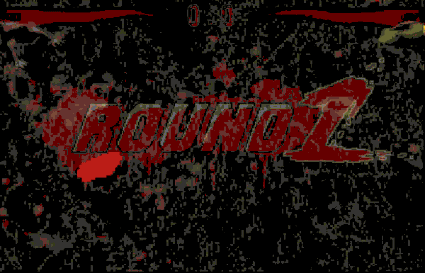 F2OGGY, by Nathalie Lawhead
F2OGGY (Only one survives!) is a Brute-Force Frog-Combat Simulator, by the IGF-winning creator Nathalie Lawhead, made for a growing audience of competitive frogfans. Each player is divided into a faction (a Frog-Faction), and must defeat their opponent using High-Velocity Amphibian Impact Lunges. (Windows, Mac)
---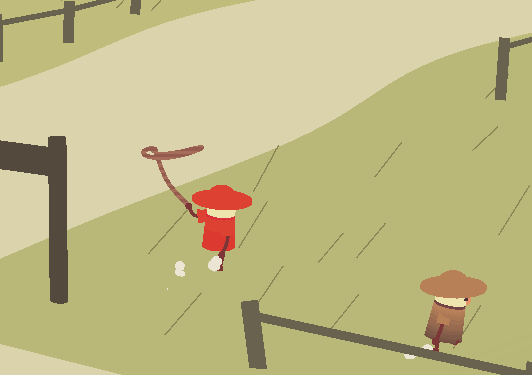 LASSOS, by SOKPOP
From SOKPOP — the the Dutch collective behind indie cult classics like the low-fi sci-fi exploration game BERNBAND — comes LASSOS, a game fit for its Texas debut: throw lassos, get money! (Windows, Mac)
---
Every month, as part of the regular monthly meetings of the Austin, TX independent game community JUEGOS RANCHEROS, we do a very casual & chatty rundown of the ten or so games from the previous month for the audience, to give people — especially those outside the indie community itself — a look at what they may have missed. The featured games are both local and global, and both indie and, on occasion, a bit-bigger-budget — what binds them together is simply that they're all amazing.
In keeping with the tongue-in-tobacco-packed-cheek tone, we call these run-downs A Fistful of Indies, which are presented here on Venus Patrol for your reference, in addition to their home on the JUEGOS RANCHEROS site.
See more posts about: A Fistful of Indies, A Way To Go, AATOAA, Apocalypse Gardening, Captain Forever Remix, Gardenarium, Höme Improvisåtion, Ice Vine, JUEGOS RANCHEROS, Klondike, KO-OP Mode, Little Party, Matthew S. Burns, moppin, Naut, nemk, Paloma Dawkins, Pixelsaurus, Powerhoof, The Stork Burnt Down, The Writer Will Do Something, Turnfollow, Veryman
---