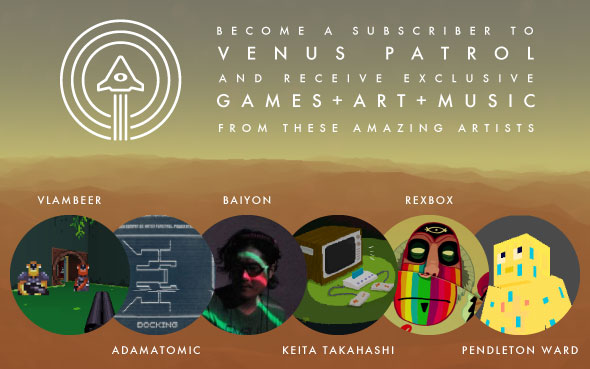 We'd like to try something different at Venus Patrol: presenting content in a clean, beautiful way that's comfortable to read, uncluttered by the standard blinking banners, pop-overs, full-site-takeovers, lists that require you to click a single feature 20 times — anything that gets in the way of you and what you're reading.
All of this comes at a cost, though: while the site intends to keep its single underwriter per month, the rest will have to come from you, the audience (read more about that below). We hope that you'll want to participate in growing and sustaining an amazing community here, and we don't intend for you to go away empty-handed.
HERE'S WHAT YOU'LL GET:
Subscribe to the site at $3 per month and you'll receive a number of awesome digital goods: a brand-new Venus Patrol wallpaper set for your PC/Mac/phone & tablet from comic artist Maré Odomo, as well as two additional sets — one from Tearaway designer and LittleBigPlanet artist Rexbox, and one from Katamari Damacy & Noby Noby Boy creator Keita Takahashi.
You'll also get the original set of Minecraft character skins from Adventure Time and Bravest Warriors creator Pendleton Ward…
…and a 1.5 hour live set by PixelJunk Eden & PixelJunk 4AM designer & renowned DJ Baiyon.
Purchase a full-year membership at $25 and you'll receive all of the above, plus two games (Windows & Mac-compatible) created exclusively for Venus Patrol:
Capsule, the ultra-atmospheric space survival game from Canabalt creator Adam Saltsman (with sound design by Deep Sea creator Robin Arnott)…
… and Gun Godz, the lo-fi hip-hop first-person-shooter from Super Crate Box developers Vlambeer (featuring underground hip-hop legend Dose One).
---
[user_has_access]
Note: you appear to be logged in with a current Venus Patrol membership! Use the account page if you'd like to view details about your account.
If you'd like to gift an account to a friend (whoa, thanks!), please log-out and revisit this page — using the subscription form below while logged in may modify details about your current account.
[/user_has_access]
[ym_register flow=2]
---
---
Does this mean you'll be gating content on the website?
We intend for all standard Venus Patrol posts to be free for everyone. For now, the only thing we are keeping behind this "paywall" is the ability to leave comments on posts. Our hope is that this will encourage subscribers to keep discussions positive and constructive (and has a super nice knock-on anti-spam effect).
Didn't you already get a whole mess of money from Kickstarter? Why are you asking for more?
We did, and all Venus Patrol Kickstarter backers at $25 and higher have been given memberships. Those backers gave us an amazing shot of capital that allowed us to find collaborators to get Venus Patrol & its related properties off the ground (and, obviously, to produce all of the rewards).
What the Kickstarter campaign by definition can't give is a consistent source of revenue so that we can keep collaborators on hand and hire actual staff to expand Venus Patrol's reach.
We've got an assembled crew of unbelievably talented artists and game designers that we're excited to work with to offer subscribers more Venus Patrol-exclusive content throughout the upcoming months and years. We'll have more information on that in due time, but ultimately the point is: the more people we have supporting Venus Patrol, the more super amazing things we are able to offer you.
What happens at the end of my subscription?
When a subscription expires or is cancelled, your account will remain, but you will no longer have access to subscriber-only features. We hope to be able to offer new rewards to both monthly and yearly subscribers — more exclusive games & art — to encourage you to renew.
Something went/is going super screwy with my subscription, who can I talk to?
Email us at subscriptions@venuspatrol.com and we'll get you sorted out as soon as we can!