---
It's now day two, and it was about as smooth a launch as I could've hoped for: nearly 1300 Kickstarter backers have now accessed the system, and a very heartening stream of new subscribers joined in throughout the day, so a sincere thanks to everyone for all the support, kind words, and patience with the turbulent pockets of technical hitches that cropped up (especially during The CSS Incident, and any white-outs and blank-bars you may have encountered deep into the night) as we kicked off this mission.
Most importantly, we worked very long into the wee hours to correct the most major of our issues: you'll now find yourself with a real name on the site, rather than being id'd by email everywhere you went. To that end, you may want to visit your /account page to amend your name, particularly first-name-only backers that now find themselves part of one big happy LastName family.
One-thousand thanks to developer Kevin 'Kabojnk' Mahoney for his tireless assistance on that id issue, especially with the more delirious I got as time passed closer to early-morning, and there are still a few more tweaks we'll be tackling in the next day or two: minor layout issues, and especially improving the experience of those of you visiting on Chrome on Windows 7, which we've seen screenshots of and, yeah, it's kind of horrifying. We're on it!
---
And then, like a bolt from out of nowhere, Venus Patrol was launched.
If you're just joining us, quite a while back, I launched a campaign for a new initiative that would attempt to chart a new course for videogame culture via crowd-sourcing site Kickstarter. Even in what was then a pre-Double Fine Adventure world (which pretty much single-handedly legitimized the idea of crowd-funded videogames), the campaign went over more amazingly than I ever could have imagined, reaching its goal within the first 24 hours and going on to more than double that amount over the following four weeks.
Fast forward past an incredibly arduous blur, and Phase One of all that good will & good intention is officially complete: the website before your eyes, designed by Cory Schmitz with background assets graciously provided by indie game developer Neil Thapen's not-coincidentally-titled 2009 game Venus Patrol (more on that relationship over here).
A few important notes on the site: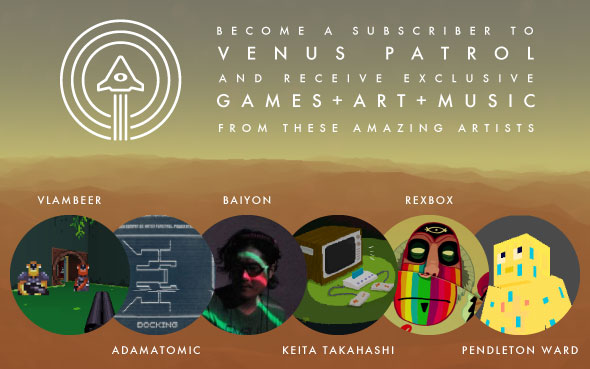 Missed the Kickstarter? You can now get Vlambeer's Gun Godz, AdamAtomic's Capsule & many more of the rewards by purchasing a membership to the website.
The wait is finally over, and the "slacker-backer" option has appeared: everyone who missed out on supporting the Kickstarter can now purchase a membership to the site to receive two of the exclusive games, as well as art & music bonuses by Katamari Damacy designer Keita Takahashi, TearAway designer Rex Crowle, PixelJunk Eden designer Baiyon, and Adventure Time creator Pendleton Ward. All of the details on that are over here.
Venus Patrol includes all of the content originally posted on Boing Boing spinoff Offworld.
Just under four years ago, I teamed up with the crew at Boing Boing to launch Offworld, a site about independent videogame culture (and the direct ancestor of Venus Patrol itself) that, if absolutely nothing else, brought focus to my own life that working to bring the best of independent gaming to a wider audience was exactly what I needed to be doing.
While I don't expect that you'll want to go back and read each of the nearly 2000 Offworld posts contained on Venus Patrol one-by-one, they're fantastic context to show the first stirrings of things instantly recognizable today: the first stirrings of Superbrothers before #sworcery was even so much as a twinkle in anyone's twitter feed, the first output that made Olly Moss one of the most sought-after designers working today, even the very first screenshot of PopCap's now-flagship franchise Plants Vs. Zombies, before anyone had an inkling of just what a success it would become.
There's even more yet to come.
As I've alluded to all along (and as you can see hinted at to the right), the Venus Patrol website is only Phase One of a multi-faceted future, with more information on further related initiatives coming soon.
In the meantime, feel free to poke around, kick the tires a bit and settle in — there might still be a few last technical hitches here and there to iron out as I get back into the groove I had going in the latter days of Offworld, but this is only day-one of a what I genuinely hope will be a real beautiful future. I hope you're excited to join us on this ride.
---