Archives:
Tomorrow Corporation
---
Never one to miss a Nintendo launch — his World of Goo being one of the first high-profile downloadable indie releases for the Wii — 2D Boy's Kyle Gabler along with Henry Hatsworth designer Kyle Gray and their Experimental Gameplay Project cohort Allan Blomquist have just revealed the first gameplay of their Little Inferno, due out this Sunday for PC & Wii U.
And that is actual gameplay: while I'll save the deeper look for a full writeup in the near future, as previously-hinted at, the bulk of Little Inferno does concern itself with igniting your precious possessions in a fantastically simulated fireplace, to (no surprise, for those that've fully experienced the darker tones of Goo) deeply sardonic ends.
But!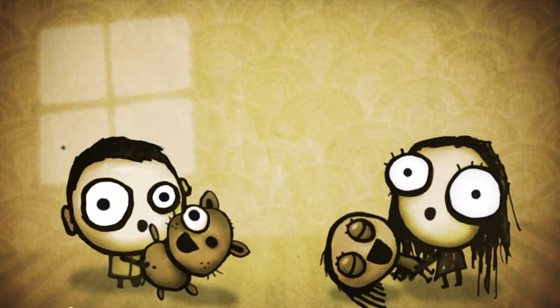 If you're already convinced: you can download Inferno for PC straight from the Tomorrow Corporation boys right now, right over here — which will also net you a Steam key (and eventual Mac & Linux versions) when the game unlocks there on Sunday — which suffice it to say for now that I highly suggest that you do.
---
Suddenly actually probably the Wii U launch title I'm looking forward to the most, Nintendo's latest communique on the system's lineup through next year included one extra exciting entry: Little Inferno the debut game from Tomorrow Corporation.
Tomorrow Corporation themselves are an all-star team of World of Goo creator Kyle Gabler, Henry Hatsworth designer Kyle Gray and Allan Blomquist, former EA dev and — with Gabler & Gray — the co-founder of Carnegie Mellon's Experimental Gameplay Project, the student group from which Goo sprang, and the re-launch of which would spawn Adam Saltsman's Canabalt.
While the Corp have been coy since their inception on what exactly Inferno will entail, it's safe to assume from the trailer above (and from what little snippets I've heard through various grapevines) that the game will concern the burning of various items, perhaps in some Noby Noby Boy-esque passively-multiplayer effort to save the world from a new ice age?
Either way, the launch will successfully bring one of latter-day-Offworld's burning mysteries, and those interested in finding out can do so even earlier by pre-ordering a copy of the game for Windows/Mac/Linux, where the Corporation are offering beta-access to the game, which is due to release on those platforms alongside the Wii U version. Visit the Corporation to learn more. [via Tomorrow Corporation]
---