Less than a week away from announcing their first game, a little introduction to Hello Games: you may have spotted — especially if you were on the GDC Austin show floor — Hello's recent appearance in Edge Magazine, where they talked about their decision to leave gainful employment elsewhere to set up shop for themselves and prepare their debut PC-, 360- and PS3-bound title.
If so, you may also have spotted (though only in print) the accompanying concept sketches by Hello artist Grant Duncan, which was basically all I needed to see to realize that the team was laser-targeting my one true heart (particularly with the cube-head at top) with whatever they had in store.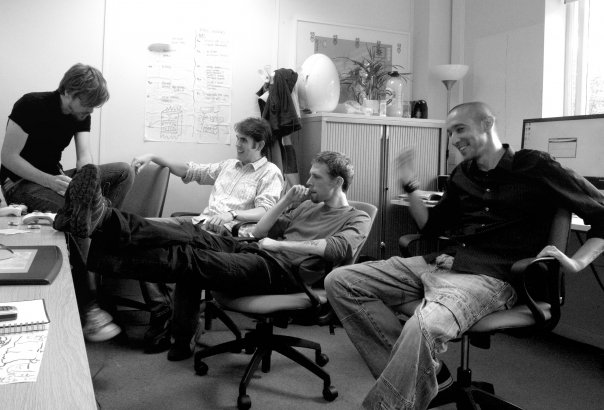 The dev team at Hello is made up of (from L to R) creative director David Ream (formerly of Kuju, where he helped expand the Geometry Wars universe with Galaxies), managing director Sean Murray (former Criterion tech lead on Burnout 3 and Black), artist Duncan (formerly artist on Sega/Sumo's Virtua Tennis 3 and Sega Superstars Tennis), and programmer Ryan Doyle (also of Kuju, where he was lead programmer on the aforementioned Galaxies), and while none of the art sketches give too much away on the group's debut game, it does give a distinct (and ultra-sweet) flavor of the direction they're heading.
Below the fold then, four pages from Duncan's sketchbook to let you get to know Hello. After you've taken it in, visit Hello's website to read more (see esp.: this post, in which each of the team have been morphed into collectible diorama characters of their respective top games).
---