---
Back in late January, I was stopped short by a single screenshot that emerged from Toronto's local hub of the 2012 Global Game Jam, the one you see directly below, for Lovers in a Dangerous Spacetime, a game self-described as "Jumpman meets Asteroids meets Han saying "Don't get cocky":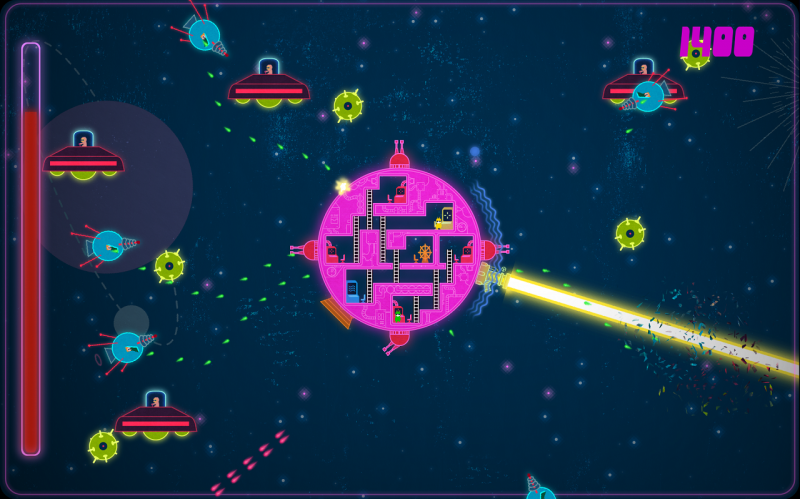 Though, to be honest, it wasn't too big a shock, as in addition to illustrator Jamie Tucker and programmer Adam Winkels, the Spacetime team also included Matt Hammill, whose work I'd been consistently floored by going back to his original student game Gesundheit (which later saw commercial release), and who you might also recognize as the ASCII master behind Jim Munroe's recently-featured (and newly award winning!) adventure Guilded Youth.
The team, now joined by musician Ryan Henwood & officially re-grouped as Asteroid Base, haven't stopped there: they've taken the past year to prepare the game — in which two players frantically ward off waves of enemy attack by manning various battle-stations on their cross-sectioned ship — for commercial release next year.
Most recently, Hammill put together a fantastic look at the various & awesomely unusual visual inspirations for the game, which — in the spirit of recent inspiration posts by the God of Blades team and the artist-lineup behind Honeyslug's Frobisher Says — he's given Venus Patrol permission to feature here, included below the fold, with Hammill's own commentary.
---
Officially — and easily — the best thing I've played today, from seemingly out of nowhere comes Guilded Youth, from writer and designer Jim Munroe and illustrator Matt Hammill (known best for his gorgeously illustrated puzzler Gesundheit). Originally conceived of at Toronto's TOJam, Youth is another in Munroe's series of interactive-fiction-plus type games that combine text-adventure tradition with illustrated & sound enhancements, like his excellent & understated 2008 suburban adventure Everybody Dies.
Guided Youth is brief enough that delving too far into its story & structure would give away the ghost, so suffice it to say that it's one of the most evocative portrayals of our collective disaffected BBS-enhanced adolescence I've experience in a game, effortlessly giving surprisingly rounded life to characters you only know briefly via a few descriptive lines and Hammill's skilled caricature.
In short: eke out a half hour to play through this now via Munroe's site, and get a bit more background from Munroe afterward.
---